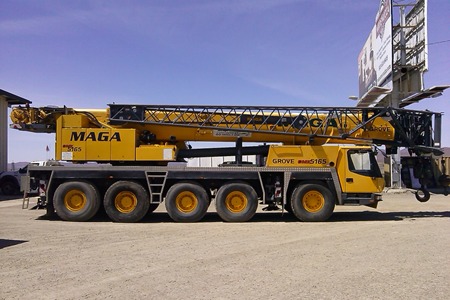 Cranes are a vital part of getting any heavy-duty job done. The crane division at Maga Trucking and Repair, Inc. includes four of the best cranes in Nevada. And, if you need slings, shackles or counterweights for your project, there's no need to worry—we can provide you with these items alongside your crane rental. Each crane is ready to go and comes with proper gear to make your project successful.
Crane Models we Offer
Our all-terrain cranes can lift up to 250 tons of weight and are legal to drive on the road. They also can extend up to a maximum height of 346 feet. Take a look at what we have to offer you:
Grove 165 Ton Crane: This is the smallest all terrain crane we have. It extends to nearly 250 feet and has 88,000 lbs of counterweight.
Tadano 200 Ton Crane: Our middle model crane can lift up to 200 tons and is great for most general projects.
Tadano 250 Ton Crane: Not only is this our largest crane, it extends further than any other crane we have. If you've got an extremely heavy duty project, this may be the crane for you.
Manitex 40 Ton Boom Truck: small fast unit great for hanging AC units, signs, and trusses.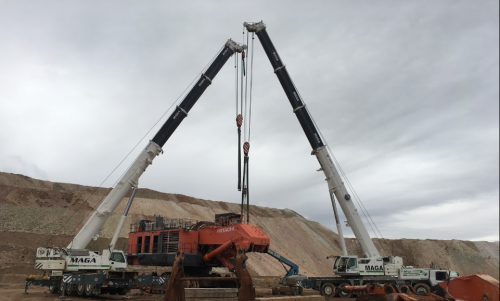 To ensure your crane rental lives up to its fullest value, we also provide rigging services. Our slings and shackles and handle anywhere from 1000 to 80,000 pounds.
Have questions about any of the crane models we offer or want to discuss your options with a trained professional? Give us a call today and we'll make sure you get the perfect crane for your needs.
Rentals for Any Industry
Our clients come from a wide range of industries, including mining, agriculture and construction. At Maga Trucking & Repair, Inc. our goal is to more than just meet your needs—we want to exceed your expectations. If you're looking for crane services in Nevada, waste no time in giving us a call at 775-623-2768 to discuss the options we have available to you.